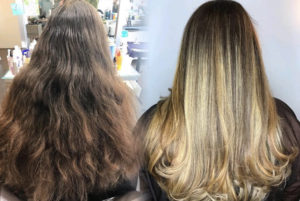 Let's be honest, we've all been guilty at some point or another of practicing bad beauty habits. Biting our nails. Going to bed with makeup on. Forgetting to apply sunscreen. Yep, we've done it too. Many times we're not even aware that our habits are affecting our overall beauty goals. It happens to the best of us, even as beauty experts at Salon Sora in Boca Raton, Florida.
It's ok, we're all here for each other and we want to help you identify some of your bad beauty habits, and we have tips and suggestions to help you make 2019 the best year of self-improvement and self-care.
5 bad beauty habits that we suggest you leave in 2018
 1. Brushing your hair while it's wet with the wrong brush
All hair brushes are not created the same, especially when it comes to brushing your hair while it's wet. When your hair is wet, it's weaker and more prone to breakage. Take care of your strands and avoid unnecessary flyaways by using a hairbrush designed for wet hair such as Wet Brush. This brush has bristles that are specially designed to be gentle on your hair when it's in one of its most vulnerable states.
 2. Not adopting a healthy skincare routine
If you still have not adopted a skincare routine for your individual skincare needs, this is the time to do it. A great way to kickstart this is by booking a facial at Salon Sora. Our experienced estheticians can help suggest products to you based on your skin type, age, and skin concerns. He or she will also give you a head start to skincare success by addressing your skincare concerns during your treatment in our luxurious Boca Raton spa. Having a customized skincare regimen will ensure that your skin looks and feels its best while preventing the signs of aging.
 3. Using makeup that is old or expired
Raise your hand if you're still hanging on to lip gloss from three years ago? Ok, now take that hand and ditch that lip gloss along with any other beauty product that has been in your stash for way too long. The new year is a great time to raid your beauty products to check the labels for old or expired products. Your beauty products should have a stamp with the number of months that the product is best used by since all products have a different lifespan.  If there is no label, check the product for unusual consistency or smell, which is an indicator that the shelf life of the product has expired.
 4. Going without SPF
Residents of the sunshine state should be conditioned to wear sunscreen every single day, but just in case you missed the memo, here's your friendly reminder. Even if you don't live in Florida or find yourself traveling to sun-deprived places, you should always apply a minimum of an SPF 30 sunscreen each and every day. Sunscreen not only prevents sun-related diseases such as skin cancer, but it also protects your skin from sun damage that leads to wrinkles and sun spots.
 5. Using heat styling tools without a heat protectant
Repeat after us– NEVER style your hair with heat styling tools without using a heat protectant product. Going sans a heat protectant such as the Eufora Style Retain heat protect spray will lead to damage from heat exposure. This means you'll be prone to weakened hair, split ends, and in some cases even breakage. A heat protectant can help cut down on damage and frying, while also keeping your mane soft and polished.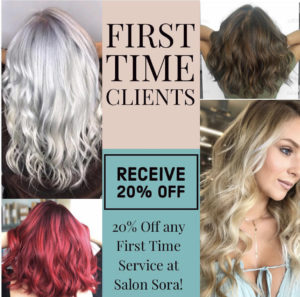 Ready to kick even more bad beauty habits to the curb? Take a look at our list of bad beauty habits you should kick in the New Year.
Do you need a little kick-starting your beauty routine into gear? All of our first-time Salon Sora clients receive 20% off their first visit. Call our Boca Raton Salon at 561-338-7597 to schedule your appointment.