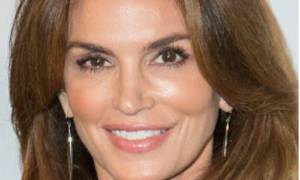 Cindy Crawford just celebrated her 50th birthday in St. Barth's recently.  The once Malibu resident has seen her share of the Florida sunshine and has certainly never wore it better.  She's always been a woman that helped set the standard for 'smoking hot' and now turning half a century she continues to wow us.  She's helped to pave the way for the less than blonde look making it a stunning event to be a brunette.  Here's a timeline for Cindy and her luscious locks that make this former model from the model that grew up in DeKalb, Illinois.
Crawford made her debut as a model during the 80's and also walked the runway for Chanel, Calvin Klein and DYNY.  You couldn't go anywhere without seeing this midwestern beauty on the cover of nearly every magazine. Incredibly enough most people remember the long legs of this supermodel than when she emerged in front of a Pepsi machine at an advertisement during the halftime show in the Super bowl.
The half owner of Rooms to Go can be found in some glamorous pictures back in the beginning of her career in 1980 when you can find her on the cover of Vogue Magazine in several editions.  The gorgeous model looks amazing when she's got wet hair and if you remember she was often seen with big fluffy curls, long, long, long layers and often baby highlights to her dark brown strands.
Primarily, you see her wearing a part down the middle and she is fortunate to have the forehead to do it with grace, but you can find her in both straightened looks as well as super messy raaarrrrr! I think one of her best looks was when she cut her hair to donate to charity for cancer patients.  Cindy went with a Lob and it looked spectacular on her.  Her color helped the hair look full and thick with different shades of copper, blonde and chocolate mousse framing her long face.
Cindy tends to look best with a dark, smoky eye and natural color on the lips. But who can forget those eyebrows?  She definitely goes for a dark, full and controlled look when it comes to her brows. Her eye makeup tends to draw you in with this alluring look. Perfect for a transition of dark to light hair color. She certainly eats the right foods and takes care of her figure.  At age 50 she was seen in a skimpy bikini and looking incredible.  No fear, turning old here!  She is a timeless beauty no doubt.  The tabloids report that she drinks a lot of green tea for stomach issues.  We also heard she loves Tequila.
She claims to eat a lot of poultry, salads, sushi and pasta with turkey meatballs as a diet, but she's also feeding her family of two kids Kaia and Presley so eating alfalfa sprouts is probably not in question.
We know one thing is for sure at age 50 she's still a rocking hot lady and we hope to see more of her trying new hairstyles and keeping the rest of us anticipating if she'll ever age.
If you're thinking about trying a new look like Cindy did with her 'Lob' cut, we can help you find the right style for you.  Don't forget every Monday you get 50% off on a Haircut & Blow-dry at Boca's best salon.