As the seasons change, new trends start to role in, especially in the beauty sphere. As one of the top hair salons in Boca Raton, FL, we stay on the forefront of what's trending each season. We're excited to announce that this spring/summer brings several sizzling styles that we are loving for our fashion-forward Boca Raton clients.  Here are just a few pictures of the colors and styles we created for our discriminating clients by the staff at Salon Sora….
2017 Hair Trends for Boca Raton, FL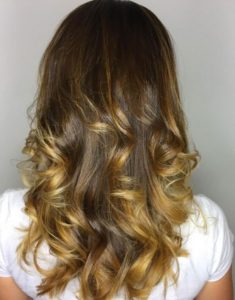 Hair Color Trends
Balayage- This modern day highlighting technique is achieved by hand-painting hair for a dimensional custom color. This color trend has been around for a few seasons and it's not going anywhere anytime soon. Hair coloring is one of the most popular services that we perform at Salon Sora, one of the top hair salons in Boca Raton FL, and we have noticed that many of our clients are opting for cool blonde and honey colored balayage.
Color Melt– This coloring technique seamlessly blends three or more similar colors. It can start from light to dark or dark to light, but a deeper root with lighter ends is the most popular version that we see. This low maintenance look looks best on medium to long hair and looks stunning with vivid colors.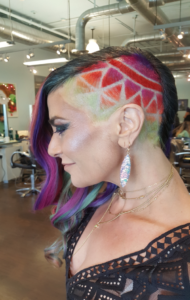 Vivid Colors- For those who like to walk on the wild side, there is no better time to release your inner unicorn with an alternative hair color. If you are bold, consider the holographic hair trend (yes, it's a thing!) or if you prefer something more muted, try rose gold or pink strands. We offer both permanent and temporary color options, so you can keep your unicorn mane for as little or as long as you'd like.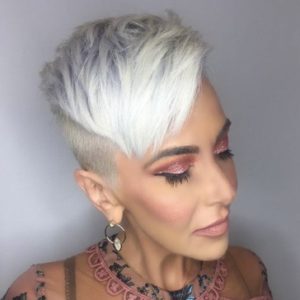 Hair Cut Trends
Pixie Cut- If you are ready for a look that is easy and breezy for spring/summer, consider a pixie cut. This short haircut is manageable and looks chic on platinum blonde locks.
The Chop- Frist came the lob and then there is the chop. This cut is slightly longer than a lob with lots of textured layers. It's the perfect length for South Florida because it's long enough to put up in a pony on hot summer days.
Long Layers- For women who prefer long locks and want a subtle change, consider adding some long layers. This will give your hair texture and looks great on all hair textures.
Bangs- If you are ready for a fresh new look for the season, but don't want to commit to a major chop, consider some bangs. From blunt bangs to long fringe bangs, adding bangs is an easy way to change things up.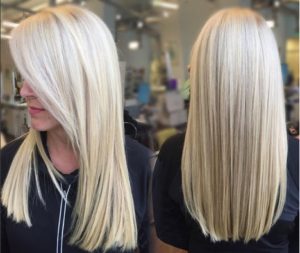 Hairstyle Trends
Blow out– Who doesn't love a good blow out? Smooth strands with rounded ends is a classic look for spring and summer.
Pin Straight Hair- Super straight hair is back in a style! When straightening your hair at home, always use a smoothing serum that protects your hair from heat damage. Phytodefrisant by Phyto of Paris and Flat Out by Goldwell are two excellent products to help you achieve the ultimate sleek look you are seeking.
Braids- A braided hairstyle is a spring/summer staple and it's the perfect way to stay cool as the temperature starts to rise in South Florida.
Hair Accessories- It's all about releasing your inner flower child as ribbons and flower crowns dominate the hair accessory game this spring/summer. To embrace this boho trend, try weaving a piece of lace into your braid or tie a piece of ribbon around your pony tail. Of course, if you are headed to a music festival (think Sunfest), a flower crown is always a good choice.
Are you looking for more hairspiration for spring/summer 2017? Check out our Instagram to see what hair styles are currently trending at Salon Sora! Ready to make a change now? Call us at (561) 338-7597 to schedule your appointment at Salon Sora, one of the top hair salons in Boca Raton FL.