This year if you're looking to be sexy from your head down to your toes, our nail salon in Boca Raton, can help you put your finger on just the right seasonal polish and nail art that will help you go from super to super-sexy in 2.5 minutes! Let's point to the obvious, shall we?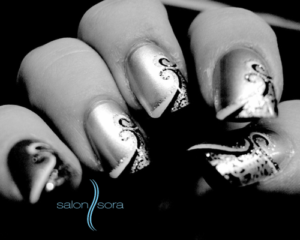 First, let's say clean and healthy nails are in style no matter what season it is. A French or American manicure never seems to be old-school. However, add something chic to your white tips like glitter or gold to accent the already super-girl handle.
Gold foil designs over shades of green and red can tip things off when it comes to nail art. Ask your manicurist what his/her favorite design is this year, and we're sure they'll give you a dynamite and decorative pattern that will keep your hands from being hidden inside your pocket.
Geometric patterns are not only contemporary, but they're also very popular throughout the fashion magazines. Bring in the look if you find something you admire and we'll see if we can't copy it. Be sure to browse through Pinterest to get a different perspective.
When you live in a place such as Southern Florida, you'll find it's not appropriate table manners to have dirty, dingy nails. Try a new shade of blue or a pearly pink to brighten up your fingertips even when you're not sporting a tan.
If you're into cute, think about adding a few snowflakes or some contemporary lace designs. This type of nail art is perfect for both child and adult and are ideal for the 2016 to 2017 holidays.
Black and Gold is a hot commodity for classic nail techniques. We've seen a lot of faded techniques as well. More nail technicians are focusing on the half-moons and decorating the nail beds from the cuticle up to the tip. Although this is opposite of what is typically requested, it's a unique way of showing off those sexy nails.
Trying something new is half the fun. Be sure to look for a design or technique that will match your holiday gowns or outfit. Our nail salon manicurists in Boca Raton,  will be happy to suggest the look that right for the dress or wardrobe. The best part is when you hear the compliments on how pretty your hands are for this year's big celebrations.
For your appointment, contact us directly.