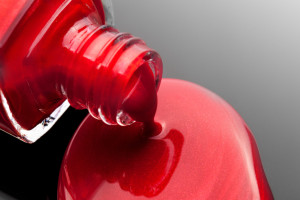 This year you can bedazzle any one of your colleagues or family members when you give out their presents with a sexy-chic manicure that's sure to make an impression. Our nail salon in Boca Raton has just the colors and styles right at your fingertips. No pun intended. Get your cell phone ready because after reading this blog you'll want to make an appointment! Ready? Go!
While we've seen the hot look of a chrome wrapped car, this 2017 you can rock out with chrome plated nails. Ask you, manicurist, to see a variety of shades from dark gun metal to gold foil. These colors are ultra-sexy and are ready to click the champagne glasses right along with you.
Unwrapping gifts can be super embarrassing when your nails are on the fritz! Try out a short style with well-manicured and groomed cuticles to match. There's nothing worse than taking a beautiful photo with your nail bed and cuticle looking like it's ready to star in Halloween. Don't hide your hands, be proud of them with a professional 'mani.'
Depending on your work schedule if you're able to sport the longer nails then try a new shape such as coffin or stiletto to pump up your style. Another shape that's sweet is the tapered square which is much like the coffin only it's wider at the ends.
Don't be afraid to get trendy with the glitter and transition techniques. We've seen so many variations of this from one nail painted to half and half or just glitter tips. A super smoking look is using flat paint finishes with glitter accents on one or many nails. Shiny and matte are the latest trends in the nail world.
It's cute when people can pull it off, but a decal or two for the holidays is nail art. Think snowflakes (even if you live in Boca) bows, bling, sparkle and candy canes to liven up any paint job out there. Salon Sora's nail salon in Boca Raton knows you've got character, now let's see you use it!
From your head to your toes we want you to be the princess at the ball. Keep in mind 90% is you attitude the rest you can leave to us for making you look stunning before the ball drops. Ask you manicurist for the look that's right for you.
Book your appointment today for your mani-pedi! Hugs from Salon Sora!