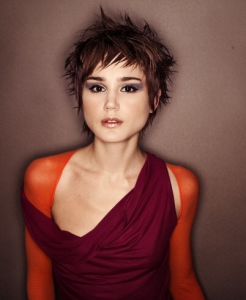 If you've had long hair your entire life and you get the notion to have your hairstylist whack it all off. STOP! Drastic changes like that can take time getting comfortable. The biggest hurdle is it can take up to 2-3 years before it all grows back. In this blog, we tell you the Salon Sora secrets to psyching yourself out to love your short tresses for the long haul.
Before you have your stylist sharpen his/her, scissors get a full consultation. Show a ton of pictures, (find them on Pinterest) ask other people what they like about having short hair. By speaking to someone who's taken the plunge or in some cases nose dive before you get it done, you can start to put yourself in the right mindset to having a pixie cut.
Face the facts; not everyone looks good with shorter hair. If you love styles like Rockstar Pink's or Miley Cyrus hair, be forewarned this cut doesn't always cut it. (no pun, really) There are apps out there that can help you envision how you would look but these are rather tedious and not realistic in most cases.
Another way to determine if you can pull off a shorter look is to try a wig! Yes, go to the wig store. Now imagine if you couldn't change this same style for months or years. If you've tried a wig and love it, chances are you're a good candidate for a change. If you put it on and it looks downright awful, don't blame the wig. It may just not be for you.
Nonetheless, speak to your significant other asking them if they're a fan of shorter versus longer. Believe it or not, trying on a super change on a whim, can cause issues.
Try getting a little taken off, but, not go boy cut right out the gate. Start gradually. Although having a shorter cut can be versatile, having a lobed Bob may limit what you can do with your hair. When you live in a state like Florida or a place such as Boca, your need to wear your hair for the weather. Depending on the type of hair you have, longer might be easier to deal with in hot, tropical, misty, rainy and scorching hot days.
If you worship your ponytail, then we would suggest starting with a slight cut and not extreme. You might be surprised how much you'll miss having the ability to pull your hair back. Shorter hair can mean shoulder length and up. But, once it is gone, the next step is to wait.
One sure thing is, it's not permanent. Hair always grows back. Who knows, you might just need a fresh color rather than an entire cut. Speak to your stylist for more information on what would look best.
Book your appointment today!
To learn more about the latest hair trends and what we love at Salon Sora, visit our website at http://salonsora.com/
Or connect with us on social media at https://www.facebook.com/salonsoraboca ,
https://twitter.com/SalonSora and https://plus.google.com/+SalonsoraBoca/posts