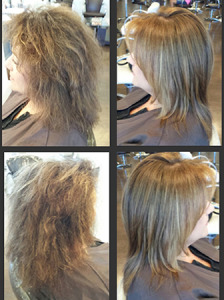 There are many factors our hair has a bad day from time to time. Where you live, what you eat and your lifestyle can all play a part of your hair getting out of control. We've all been there no matter what the cut, style, straight, curly, color or natural aspects are of our beautiful locks. Everyone is entitled to a bad hair day. If you're finding yourself weeping or whining in front of your mirror, then you'll want to let Salon Sora come to your rescue. Before wearing a ponytail or tucking under a baseball cap, read this blog.
Check your diet for a reason why your hair is reacting in an awkward manner. Many people don't realize things like alcohol, too much greasy food or even gluten can play a huge part of how your hair may react. From the follicles to the ends your hair need to have the proper nutrients and care to be healthy, grow properly and look gorgeous 24/7. Medication is also another problem that can cause your hair to be out of control. If you've ever been pregnant before, and took pre-natal pills, you might recall how well your hair and nails grew. Ask your doctor or physician if your current diet or meds are causing you to have a lack of the proper nutrients.
Another reason for bad hair days is the weather. If you live in a place like South Florida, you are already used to this as a part of normal and daily living. Solutions could be cutting your hair into a shorter more manageable style to wearing it in a different way. The bun, the pony and the braid can be your best buddy if your hair is longer. Bobby pins and other hair accoutrements will make life easier if you're in a hurry.
Your shampoo may be wrong for you. Certain shampoos and conditioners can make life unbearable if they're not right for the texture of your hair. Cheap shampoos can contain a lot of bad chemicals and products like alcohol which can be drying. You don't necessarily need suds to be clean and shampoos containing sulfates can seem like the hair isn't getting clean when on the contrary it is.
One last point to make is you hair may be in desperate need of a new hair cut. While the hair grows, it can also change in texture, and the way it lays on the head. Let your stylist know if there have been any significant changes.
For your next hair appointment, contact our spectacular receptionists.