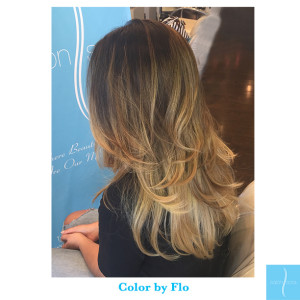 Many of you have already heard of the term "Ombre" which is a transitional color trend, which swept the nation for 2016. For the New Year, you'll hear the word "Sombre" which is taking the place of the big panels of lighter or darker colors for a more subtle and softer look. Salon Sora has just the right shade for you to keep you looking stunning even during the winter months of Southern Florida. Let's take a closer look.
When you live in a place like Boca Raton you can expect two things. One, your tan may be faded since you might not be spending too much time in the sun and Two, you're still supposed to look your best no matter what the season may be. To keep your face looking bright and cheerful, highlights are a sure-fire method to achieve this effect. With the Salon Sora Sombre approach, you'll still have darker roots with highlighted ends that use a soft blend of both high and low lights. This effect gives a subtle transition between the colors and looks more natural.
The trick to the perfect transition is not to make it seem like the hair has been color treated at all. This hair style creates the illusion the hair has been gently kissed by the sun which makes it perfect for this time of year.
The best part about going Sombre is you can stick with any shade or tone that you'd like and still create the effect by using lighter shades. For instance, let's say you're a spicy ginger, with a lot of nutmeg and cinnamon tones. The colors we would use to highlight your hair would be soft golden blondes with strawberry to make the flat tones of the darker reds pop with a slight highlight.
With Sombre colors we don't pull the hair through a cap or weave it in. This technique is typically done by painting the product directly onto the hair without using foils and such. Although each stylist has their way of achieving the same outcome, this is one of the most common.
With a little hair ingenuity, we can make your hair go from the darker shades of mmmm, boring to a bombshell that creates as a stunning statement to carry you all the way to spring time. Don't forget to bring in photos of the shade you're looking for and share them with your stylist. We love pictures and examples, and this will help us to pick the look that will complement the rest of your features such as skin tones and eye color. Until then, Hugs from all of us at Salon Sora!
Book your appointment today, and start looking like a rock star tomorrow!