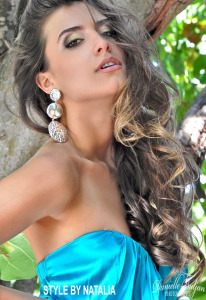 When it comes to living in a place like South Florida, you can't allow your hair to dry naturally and expect it to look great. If you're looking for that perfect cut, you also need to know just how to blow dry and style your hair. Otherwise, you'll end up with frizz, flat, freaky and hair that will make you scream. On this blog we give you 3 tips that will help make blow drying your hair faster and more attractive.
Tip 1.) Use a Leave-In Conditioner
Tip 2.) Use a Brush That's Right for Your Hair.
Tip 3.) Section the Hair with Clips Before You Start
Instructions: Start with the bottom back layers and twirl your hair with the blow dryer following down the shaft of the hair. Simultaneously keep sliding the brush, working down to the ends. Next, do the same, but in the opposite direction. Repeat with all sections of the hair. For the smaller hairs near your temples, use a small curling brush to straighten the little baby hairs in this area. If you have long hair do one side, then the other. Don't attempt to blow dry the hair at the same time. If you want to have more volume, than take a section at the crown of the head and blow dry straight up.
Using a leave-in conditioner is really important. This is particularly true for people living in places like Boca Raton or any beach towns. Leave-in conditioners create a barrier for your hair against the UV rays that can damage it.
Finding the right brush can often times be challenging. Ask your stylist what he/she recommends to get the optimum results you desire.
Sectioning the hair in smaller areas not only help you get a straighter look, it also cuts back blow dry time. It's much faster for your dryer to work in smaller sections than blow drying your entire head. Even flipping the hair over and blow drying it from the back won't help the hair dry as fast.
The look is a head full of straight hair that is super sexy and will stand up in the hot Florida sun.
For more information or to just stay up to speed with Salon Sora, you can visit our website here: http://salonsora.com/
or connect with us on Social Media