Our glorious locks and tresses have made it through the heat of the South Floridian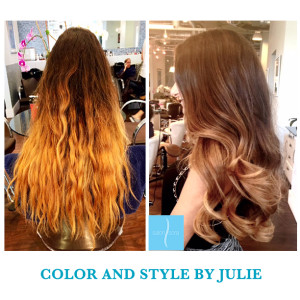 sun and now we step into the Fall. Ready to take on new beginnings and saying goodbye to all that summer has left behind. But, you can still be hot for the rest of the year with these Salon Sora Fall hairstyles made for the Boca Ratonian in you.
Amber and Copper hair is killing it at hair shows around the country. It's the perfect color combination for this time of year because it lends to the blonde highlights from spending time at the beach or pool. But, the amber tones make the perfect segway to fall. Soft, elegant and stunning, it's perfect for those wanting to change their Blondie looks for more of a redhead.
Rose Gold is yet another combination of rainbow hair to a pastel that is paired perfectly with almost any skin tone. This takes the browns and blondes to a whole new level of chic and classy. Beautiful white gold highlights under a reddish-brown tint. Stunning at any age. If this is a hair color you're considering, let your stylist guide you through the right shades for the perfect look.
According to Harper's Bazaar, this falls trend is textured. Let your locks be kinky!! If you still have crimping iron, this is the way to go. Another excellent look, ideal for both work and play is hair knotting. Whether it's a tightly secured bun at the back of the nape to a messy bun stacked high upon your crown, this look will have you entangled with this easy to do style.
If you own your grandmother's tiara, now's the time to wear it. All types of antique hair jewelry are flooding the fashion mags from the East to the West. So if you inherited this type of hair-bob then sprinkle it in. There's a nice variety of gemstone Bobby pins, hair clips and of course the tiara for you to pick from.
Can't give up that beached hair? Guess what? You don't have to! Wavy waves, kinky and curly are in this fall and Salon Sora advice is show it off! Speak to your stylist about layers that look best with this type of technique. Let's face it, when school is in, and you're running around this is the best hair to wear, because it makes you look like a Salon Sora natural beauty. Dab some mascara and lip gloss on and you're fresh and ready to run out the door.
Have you thought about getting a bang out of your look? How about bangs? Fall 2016 is revealing a lot of thick bangs that can really change your entire look. This is one easy way to update without making a drastic change.
So there you have it any of these delicious styles will get you out the door and on a plane without a lot of packing. Whether you decide to go with an updated color or try a pair of bangs, these are they styles that you can wear anytime, anywhere and it's what's hot this time of year.
Talk to your stylist or book your appointment, by contacting us direct. We look forward to seeing you soon!
For more information or to just stay up to speed with Salon Sora, you can visit our website here: http://salonsora.com/
or connect with us on Social Media
https://www.facebook.com/salonsoraboca
https://twitter.com/SalonSora
https://plus.google.com/+SalonsoraBoca/posts