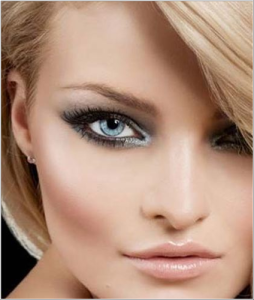 After the Christian Dior had spread where they showed girls emphasizing their dark side, we thought it would be fun to give you our take on this ultra-mysterious but borderline natural style. Dramatic lipstick color, top-to-bottom big fluffy eyelashes, a well-defined brow and shiny skin are what you can expect. Here's the Salon Sora's Holiday spin on this beautiful makeover.
First, you've heard of the Vampy lip, right? Well, Salon Sora's makeup artists will tell you "The Lady is a Vamp" in these alluring shades of plum, Bordeaux, and Merlot puckers. Be sure to line the lip carefully and for color that last ultra-long, color in lips with the pencil then go over with your preferred shade of lipstick. A beautiful look is to use a darker pencil on the outer edges then use a lighter shade in the bow and center of the bottom lip. This technique will make your lips look full and mysterious. These are the perfect shades for your holiday parties where you will be unforgettable.
Two things you'll see staring right back at you are the dramatic eyelashes for this year's celebrations. 1960's model and entertainer, Twiggy made the fake eyelashes almost seem babyish. (we know it's not a word). Ultra-thick black as black mascara and drawing with an eyelash pencil lashes. That's right they've brought back the swinging 60's with a Salon Sora flair. Faux eyelashes are a must with this eye makeup.
Skin that glows is the only way to pull this look off. Look for highlighter sticks and smear over the top of the cheekbones, down the bridge of your nose and on the ball of your chin. This effect, of course, should be applied after a good concealer. If you're naturally glowing after you've taken a selfie, you know you put the highlights in just the right place.
Can you say "Glitter"? Since this is focused on the holidays, think New Year's Eve or about sitting next to your honey under the lit tree. Does your face sparkle? Look for eyeshadow, heavy induced by glitter then emphasize with a dark deep eyeliner and cap off with your falsies. Super sexy but wait! There's more! Use a natural lip liner, plop a blob of concealer in the middle of the lower lip then top off with lip-gloss. This is a chick and elegant look just right for kissing under the mistletoe.
These are just a few of Salon Sora's Fantastic MakeUp tips just right for this year's holiday season.
For special events, have our makeup artists perfect your look. Contact us today!
Book your appointment today!
To learn more about the latest hair trends and what we love at Salon Sora, visit our website at http://salonsora.com/
Or connect with us on social media at https://www.facebook.com/salonsoraboca ,
https://twitter.com/SalonSora and https://plus.google.com/+SalonsoraBoca/posts