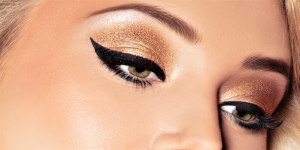 With the new year gaining quickly upon us, many people are scrambling to get their last-minute cuts and colors in to look fabulous before the dropping of the ball. In this week's blog, we uncover some party styles for you to consider before booking your appointment with the best salon in Boca Raton. Three, two, one!
The Big Bushy Braid | Beachy Lobs  |  Spectacular Colors  |  The Chanel Platinum Manicure  |  Dark Lips & Cat Eyes
You can turn just about any magazine page today and find the big bushy braid as one super smoking hot style for this year's newest hair styles. One thing you'll notice is the many different styles of how to wear the big bushy braid. Of course, these hairstyles would work more for those with long hair. However, if you've got medium hair, that's long enough you can add a few extensions made of human hair to enhance your look. Nonetheless, this is a romantic and alluring way to wear your hair that's just right for the 2017 New Year.
Next, it's off to chat about the beach lob. Rather than a Bob, that is tapered and cut and can coiffe them to just about any length; this is a cut that derives from longer styles and is lobbed off at the shoulders or nape with longer strands toward your face. What makes it beachy is the way you style it afterward. Soft waves work better with hair that is not freshly shampooed. If you haven't used a dry shampoo, you might want to try one using this hair technique.
Today's hair colors are more wild and vivid than they were let's say ten years ago. Pinks, purples and now the neon dyes enhance your natural hair color and bring it to new heights. Silver or Platinum is an ultra-chic tint that brings a bit of mystery to any age. Ask your stylist to hook you up with just the right color for your skin tones.
The Chanel nail colors and manicures are dramatic and look stunning for both day and evening wear. Think metallic mixed with black, silver, and gray. We love the way these colors 'POP' when dressed in a little black dress or your office wardrobe.
Lastly, let's talk about your makeup. This year the lip is dark and matte. Drop the lipgloss and pile on the lipliner in shades of deep cherry, burgundy, and plum. When you live in South Florida and sport a year-round tan, these shades of lipstick are complimentary. After you pile on the dark lips, use a cat-eye liner to top it off. You can find many ways to make the perfect cat eyes on places like YouTube and Pinterest.
With all these Salon Sora tips for your to consider and try out, you'll be bringing in the New Year with a Big Bang!
Contact us today to book your appointment. Hugs from Salon Sora!