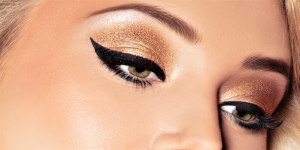 Ten years ago make-up and cosmetologists may have disagreed with this theory. They used to claim concealer was only good for covering dark circles and flaws. Celebrities like Khloe Kardashian and Gigi Hadid maybe sporting fresh faces, but, one thing is for sure, they aren't afraid of using concealer for more than covering a zit. In this week's blog, we'll share Salon Sora's secret weapon techniques for using a concealer that you'll love.
First some simple tools:
•    Complexion Sponges in a variety of shapes
•    Buffing Brush
•    Angle Brush
•    Highlight Brush
•    Blending Brush
•    Boo-Boo Cover-up
•    Wonder Pencil by NYX
•    2-tubes of Concealer, one slightly darker than your skin tone and one lighter
While it's not 100% necessary to have these brushes, we find that a nice variety of brushes can make the application more even and last longer. Your concealer will stretch further as well.
1.    Start with your moisturizer. Let it soak into the skin for up to 1-minute before applying any make-up.
2.    Next, use your Wonder Pencil and cover any sun spots or flaws. Depending on how dark these marks are, will depend on how much you may need to put on. Work from the center out.
3.    Powder these areas to set in.
4.    Now use your highlighting concealer (lighter than skin) apply to eyelids and inner and outer corners. Blend well.
5.    Use concealer below the eyes. This should be in the shape of a V and extends down to the tip of the nose. The old way was to cover bags only making people have the raccoon effect. Blend with your buffing brush. The closer to the eyelash line uses your finger to blend.
6.    Once you have done under your eyes, apply lighter concealer on the eyebrow bone. Lightest color above the eyebrows and below the eyebrow as a highlighter. Blend, blend, blend.
7.    You can achieve a thinner looking nose by using the concealer down the middle of the nose; this also works well on the top of your chin.
8.    Boo-Boo cream can be placed over flaws or used under the eyes. What we like about this ultra-concealer is it lasts long even during humid weather.
9.    If you want to make your lips stand out and keep your lipstick from bleeding through, line you lips with the Wonder Pencil, then use your blending brush to soften. This is excellent for people with smoker's lines.
Once you've applied concealer, finish and set it with a dusting powder. Your skin will look young and refreshed. A little lipstick and mascara and you've got the super-sexy Salon Sora secret weapon.
Book your appointment today!
To learn more about the latest hair trends and what we love at Salon Sora, visit our website at http://salonsora.com/
Or connect with us on social media at https://www.facebook.com/salonsoraboca ,
https://twitter.com/SalonSora and https://plus.google.com/+SalonsoraBoca/posts