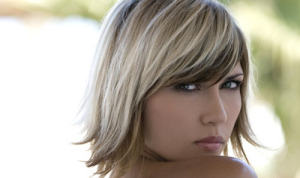 Flip through any fashion magazine for Fall 2016 and what you're going to see is a lot of natural waves, curls, and cuts. One of the most provocative styles this fall is rather passive aggressive in our opinion. It comes and just as soon as you fall in love with it, gone! Well, you can play that far-out game or get on board with Salon Sora's secret to being shaggy but not shady. Read on!
Whether it's short or long this fall, the runway's and magazines have models jumping off pages with their sultry shag locks. This cut is one of the most versatile as it looks good straight or scrunched with that beachy wave. About the only variation that makes shag cuts unique are the bangs!
If you like a full bang or just a few wispy pieces along your face, shag cuts can accommodate both. Try airdrying and then adding a little volumizer to give it a bit of oomph! Whether you want to go big or go home, this is a cut that's youthful no matter what the age.
On older women, a spunky bob with the layers of a shag cut is super sexy. Pair that with a unique color such as pewter or pink, and wowzah you've got about ten years coming off your head. It doesn't matter if your 15 or 50, the shag cut is ideal especially if you like to change your hair style often.
One of the best parts of going Shaggy is the grow-out period. Since this cut includes layers of hair, it tends to be an easy transition for short to long or vice versa! If you're looking to freshen up your look, this is one trim to try that even the celebrities will tell you "Go for It"!
Entertainers such as Taylor Swift to Meg Ryan have all stepped into a shag cut at one point or another. One reason why is the manageability of the cut. If you have thin, straight hair, a little product will go a long way with this type of hairstyle. Blow dry the ends under or curl them up, the style will delight you either way.  One woman who sports this doo today is Jennifer Anniston because it's ideal for women who have baby fine hair.
So if you're looking for a change and not sure what to do, but you want something where there's little to no commitment, take the Salon Sora secret and get shaggy. You'll love it!
Book your appointment today!
To learn more about the latest hair trends and what we love at Salon Sora, visit our website at http://salonsora.com/
Or connect with us on social media at https://www.facebook.com/salonsoraboca ,
https://twitter.com/SalonSora and https://plus.google.com/+SalonsoraBoca/posts