When someone asks you for a hand, do you put them in your pockets? Well, you won't need to be ashamed of the way you little digits look any longer. Salon Sora is always on top of the latest trends and here's one you'll want to sport all day long!  In this blog we'll help you get a grip on making your mani-pedi something everyone will applaud! Read on!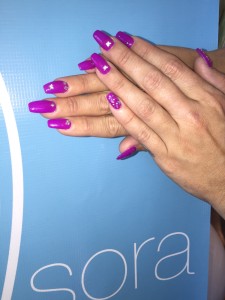 Shifting nail polish sounds different than what it is. I must admit when I first heard of this incredible nail technique, I assumed it was something that happens to your polish as a defect. Well, no glitch with these extremities, as this happens to be one of the 'hottest' nail techniques in Boca Raton today.
Much like the mood rings of the past, the nail polish changes colors to reflect the way a person is feeling. Now hold on. Changing colors? What the heck does that mean? The answer can be right in the palm of your manicurist's hand!
This is a fun lacquer nail polish that has the ability to conform to your body temperature. For example, pinks turn nude, blues turn purple and all you'll do is turn heads with this ultra-cool polish.
Shifting Nail Polish (also called temperature or thermal polish) Is elegant and stunning with a slight twist of OMG! How fun is it to wear a color that changes when you do? Get funky with your oranges and greens to give it a pineapple twist. Or consider a French manicure using changing color polish on the tips or in the beds of the nail for a really spicy effect!
Whatever the case may be, your hands should always look their best, and we've got techniques that last long in between visits. One of the benefits to Shifting Polish is its ability to be peeled off without destroying your natural nails. Super important for those people who have thinning nails.
There's a large selection of gradient change polishes that include glitter or flat colors for your preference. So rather than being bored with your vanilla nail polishes, select two colors in one or one that changes with your mood!
Warning: This manicure is highly suggested for those who have children. Hugs from Salon Sora!