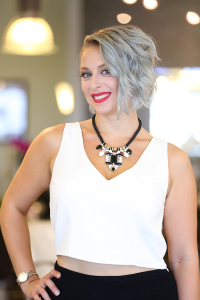 "Let the Rain Kiss You. Let the Rain Beat Upon Your Head with Silver Liquid Drops. Let the Rain Sing You a Lullaby". Langston Hughes
Gray hair used to be for only the elderly. Unlike the mindset from yesteryear, Salon Sora has found that using silver and black together can create some of the most alluring tones that look fantastic on just about any skin tone. Silver is the new black and lets me tell you; it's stunning when paired with blues, pinks, and even purples. Here's the breakdown on how you can picture yourself with stunning and sexy silver hair.
First, let's talk about the lightest silver. These super bright shades blend well with dark roots but are an excellent choice for women with blonde to platinum hair. If you've got hazel eyes, this is a 'must try' since the gray is ultra-chic and will make your eyes pop, no matter what color they decide they are.
For the ladies with the short and sassy cuts try a dark brown or black charcoal with silver highlights to spring into action. This style isn't for the weak at heart, but, for those brave enough to sport it. It's all in the way your feel.
For the fashionista's out there, we love to see this look mixed with a rainbow of color options. Greens, turquoise, and even purple is a stunning look that matches every stitch of your wardrobe. Ask your stylist for pictures and examples to get an idea of how this color combination screams for your head!
If you remember, Olympic medalist Ryan Lochte had this super-hot look while in Brazil. While we won't get into Lochte's misbehavior, we will tell you that men make this color look debonair and distinguished. Celebrities and superstars are making this color a remarkable choice for anyone wanting to walk on the edge.
They may call it "granny hair" but what it truly is, is special. Color with shine takes the platinum blonde to a whole new level with the many different varieties to wear this color. It depends on you and whether you want to lean more toward light and white or dark and bluesy. The other part of having gray hair is that it looks fab on short or long. It's your doo!
Want to get extra spunky? Mix in lilac, cherry and blue for a unique blend. This creation is magnificent and oh-so-classy.
Whether you go with a light or dark version of this stunning color, you'll be more than the life of the party; you'll be unforgettable.
Book your appointment today!