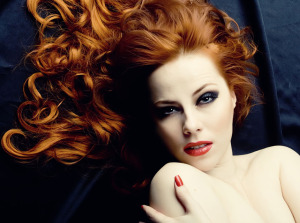 Fall can be one of the most exciting times of the year. For many of you who took time off or were on vacation for the summer, it's enlightening to see the beachy hairstyles being blown out with the warm breeze. Now that we've stepped into fall you may be ready for a fresh new look to help transition from the sun-kissed hair to the hair that hugs with a warm, inviting embrace. This blog we uncover some of the sultry looks that come straight from Boca's favorite hairstylists at Salon Sora.
If you think of cherries and pumpkin in autumn, you're on the right track. Rather than sporting the bleached blonde hair try to a transition to a variety of highlights and lowlights gleaming with baby blondes. Or go with gorgeous, deep cherry and autumn leaves as a revitalized look. An absolute must try for almost any skin tone.
Peaches for free! If you love the strawberry blonde tones and hues, then you will die for this peach look that's sweeping the nation. Of course, this looks great on people with pale skin, that works pretty well with a tan, making it a super-color for Boca Raton and South Floridians.
It seems that the Millennials have taken gray to a whole new level. Some of the most gorgeous black and white tones sported by even some very young ages. These smoky colors go from charcoal to light gray highlights giving this look one that's ultra-chic. Silver hues are turning heads no matter what the age. We just love this new look; that's ready to pop!
Hair strobing is something you may want to try while we're falling back. These colors are a supernatural effect that is carefully thought out by your hairdresser and you. The highlighting technique is strategically placed by mapping the shape of the face, the skin tone and the best placement of where the highlight should go. Incredibly beautiful results that look all-natural.
Of course, the sirens will go off with the warm autumn reds that are out right now. Be cautious with reds because they fade the quickest. It's best to consult your salon professional for the best shade of red for you. That is if you want the love of your life crawling back for more!
Don't forget for our Latina's out there with those extremely dark hair colors to add some neon to them. The trick here is to put in a few streaks of electric blue or bubble-gum pink to show off that sexy and fun side. You'll love the compliments and attention without a doubt.
These are just a few of the trends that we see around town and what people are requesting. As usual, it's best to consult your stylist for more ideas.
Contact our receptionist today for an appointment.