Braided Solutions for South Florida Weather
It seems that braided hairstyles never go out. Just look around South Florida you'll see a lot of the braided look. 
 Finding a braid that looks great isn't difficult when there are so many different ways to wear your hair in a braid.  Even people with shorter hair can add a braid or two to dress up their current look. Braided styles are great for Southern Florida.  Days when the weather is full of heat, wind or humidity try one of these braids to keep you looking smoking hot.
The fishtail braid is a classic and elegant style that has a little bit of an edge. Fishtail braids work best for longer hair.  You can wear this braid straight down the back of the head or to the side.  If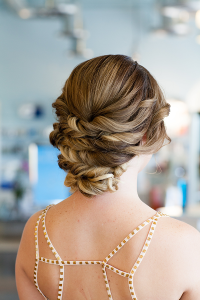 you'd like to change it up a bit, do a Bubble Fishtail. This newer braid is where you section the braid in three parts by securing with a hair tie. Then pulling the braid apart creating a newer way to wear the fishtail.
The French braid is another beautiful and sexy look.  You'll need to have medium to longer hair to wear a French braid.  If your hair is at shoulder length, it should work.  You can wear one braid or two.  To get a tighter braid, style the hair while it's wet or use a water bottle to dampen the hair before you start. Cross over the section first then add hair from the top of the head next to the part. Then alternate with the opposite side of the braid.  Keep your hand close to your head when your braiding and pull the hair tightly.  This is one of the prettiest looks no matter what your age.
The milkmaid braid has a demure and mature appearance.  You start by braiding pigtails then using a bobby pin and securing the braided pigtail to the top of the head, creating a crown.  To give a sultrier style, pull the hair loose once while braiding and before securing to the top of the head.
Whether you select the edgy fishtail or the classic French braid, you can be a part of this timeless trend no matter what the weather in South Florida may bring. 
In Boca Raton and need a hot new hair style? Call our salon in Boca Raton
Speak to one of our stylists at Salon Sora to try an up-doo or one of these terrific hair designs.