This fall we're seeing a heavy makeup look with the Smokey eyes, natural lip and perfect bronze kisse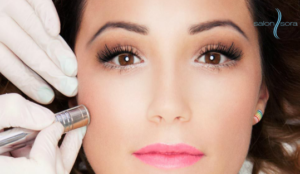 d skin. It's not that difficult to achieve this look no matter what your eye shape may be. In this blog we demonstrate several ways to get an ultra-sexy eye that pops anytime of the day or night and we're doing it "Salon Sora Style!" Ready, set, grab your eyeliner!
FIRST: Start with an eyelid primer that grips the makeup no matter how muggy the weather is. When you live in a place like Boca Raton, dark eye makeup can smudge and make you look like you've just stepped out of a horror flic! By using a good eye primer, the makeup will last longer.
NEXT: Put your shadow on. Select your lighter color and cover the lid from the crease to the lash line. Once you're done with the lightest color, such as cream, gray or light blue, then you're going to use the darker colors. Only on the edges both inside and out. We like to use a medium hue, then go to the darkest on the outer edges. Don't forget to tap your brush for excess powder. This is one mess you don't want to clean up.
NOW: Blend, blend, blend. If you prefer a darker effect for the evening, then re-apply the color until it's to the achieved look.
FINISH: With liquid eyeliner and set with dark or black powder to match. Go into the lower lash line, corner and top lash line.
Once you've completed your eyeliner, add a brown or burgundy in the crease to give the eye dimension.
Curl your eyelashes before applying mascara. If you use faux eyelashes, apply those after mascara. Many people think it's the other way around, but if you apply the mascara first the fake eyelashes will stick better and will be re-usable. We could do a whole other tutorial on strip lashes alone, but today our focus is no smoky eyes.
Once you've let the eyelashes dry, then cleanup any excess powder with a Q-tip or your finger, be careful not to smudge. It's a matter of preference on whether you add eyeliner to the inside of the lower lash to the tear duct. Some variation is to add white or varying colors for a more dramatic effect.
There you have it! Salon Sora's smoky eye effect! We've got professional makeup artists on staff to help. Call for your appointment today!
For more information or to just stay up to speed with Salon Sora, you can visit our website here: http://salonsora.com/
or connect with us on Social Media
https://www.facebook.com/salonsoraboca